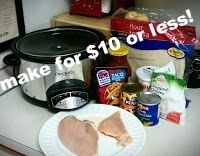 My husband loves Mexican food, if I want to get a good response from him about the dinner I make, I cook something Mexican. However, I like to prepare stuff that is really easy, I love my Crockpot and I don't like to spend too much time on meals. These will probably be the easiest burritos you will ever make, and they are delish. I came up with this recipe on my own, but i have seen others like it floating around on Pinterest, so it isn't super creative or unique, but it is simple, tasty and my hubs loves it...my 3 requirements for any meal.
This recipe hardly takes any time at all, maybe like 4 minutes to put into the crock-pot. Throw it in during nap time, or while your kiddos eat lunch. Even though I use the slow cooker for this recipe, I wouldn't recommend putting it in too early, especially if you have a newer crock pot, the newer ones cook faster, older ones cook slower because they don't get as hot. If you cook it too long, your chicken will be dry, and no one likes dry chicken. And for goodness sake, don't forget to thaw your chicken when you get up in the morning, or before you go to bed!! (I forget about 80% of the time) Oh, and while I'm reminding you of things, when you're done reading this, you may want to go check your washer and make sure there isn't a load left in there getting all nasty and smelly! Or is it just me who should go check on that??
First, get yourself an adorable little helper or two!
Maybe your toddler would like to work on his fork skills to keep himself entertained (and hopefully actually eat some veggies).
What you'll need:
I forgot the cheese in this pic, but you will probably want it to garnish your chicken inside your burritos.

Now, you just plop the Chicken, Salsa* and taco seasoning into the crock.
*I used to put in a whole jar of salsa, but this time I added about two-thirds of the jar for a better salsa-to-chicken ratio, we liked it, but if you are doing 3 or 4 breasts, I would say to add the whole jar.

Next, you will want to add the green chilies. You may choose to omit these because most salsas already have chilies in them, but we like the extra kick. You can also put in the olives at this point if you choose to, but I usually add them when the chicken is done cooking, so they aren't mushy. (and by the way, it really doesn't matter what order you put stuff in the crock)




So, we have talked about this before, I am lazy. I really hate taking the time to chop onions, and even when I do chop them up, I still have to freeze them or they go bad before I use them all. Also, I'm already a really emotional person, I don't find it necessary to add anymore tears to my kitchen from cutting those dang onions! I recently realized you can buy onions already chopped in the frozen section, and these ones cost about 80 cents per bag at Winco, and that's just what I use instead of doing it myself, but again, lazy. If you use fresh onions, you may want to wait until the end and add them with the olives so they stay crunchy, but since I use the frozen, I put them in with everything else.


Now that you have everything in there, close the lid and decide what setting you want to cook your chicken on. This recipe does not take very long at all, especially in a newer Crockpot (or any brand slow cooker). If you have a newer crock, I would recommend checking it at 2 hours on high and 3 hours on low. If you have an older crock, you probably know it better than me, or you may need to experiment with the times a little until you figure it out. It is always a huge bummer to smell your food cooking and be so excited to eat it, only to find out the chicken is super dry. Especially if you have been chasing around kids all day, and it was everything you could do just to get a few seconds to put the food in the crock at all; if you're like me, it was a miracle you even remembered to thaw the chicken in the first place...you did remember to thaw your chicken right? :) Actually, the good news is, you can totally still do this recipe with frozen chicken, I usually just add an extra hour and fifteen minutes to my cooking time, but again, it really does depend on your Crockpot/slow cooker.
When your chicken is done, use a slotted spoon to get the meat out of the Crockpot, and use two forks to shred it, if the meat is fully cooked, it should be very easy to shred.
If you haven't already, mix in your olives now (and your onions if you decided to wait on those).
All you have left to do is scoop up a big spoonful of the chicken mixture, slap it on a tortilla, add a dollop of sour cream, sprinkle on some cheese, roll it up and chow down! Yum, yum!!
You can always add other things to this recipe, too. Maybe some corn, lettuce, bell peppers, or cilantro? I'm sure it would be good with hamburger or ground turkey, too. Let me know if you try it and what other combinations you come up with! :)
I hope you enjoyed this quick and yummy dinner, and I hope you get the approval of whoever you may be serving it to, I know for me, it is the best when my hubby tells me that he loved dinner! Have a wonderful day, and remember to enjoy every minute of it; try your hardest not to think about bedtime...if you need something to look forward to, look forward to dinner. ;)
"There is nothing better for a person than that he should eat and drink and find enjoyment in his toil. This also, I saw, is from the hand of God,

for apart from Him, who can eat or who can have enjoyment?"

Ecclesiastes 2:24
2-4 chicken breasts

1/2 jar -1 full jar of Salsa

1 packet taco seasoning

1 can green chilies

1-2 C. chopped onion

1 can sliced olives

grated cheese for garnishing

sour cream for garnishing

burrito size tortillas

Place the chicken, salsa, taco seasoning, green chilies and onion in the crock pot, cover and cook for 2-3 hours on high, or 3-4 hours on low. Check chicken at 2 & 3 hours to prevent chicken from getting too dry.

Once chicken is fully cooked, shred with two forks and stir back into mixture. Stir in the olives.

Place generous amount of chicken mixture on tortilla, garnish with sour cream and cheese. Serve immediately. Enjoy!